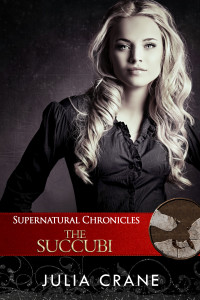 Supernatural Chronicles: The Succubi
When a cryptic letter is left at the doorway of her dormitory, nineteen-year-old succubus Skylark Quinn is sent in place of her nemesis, Alexis, on a top secret mission. Why she has to go with Kragan Kane—the biggest jerk, and hottest incubus on campus—is beyond her, but the decision's well above her pay grade.

All Skylark knows for sure is the ancients are keeping secrets and the supernatural community is on edge. Rumors claim immortals' powers are at risk, but burdened by a supernatural power she despises, why should Skylark even care?
You can pick up a copy here...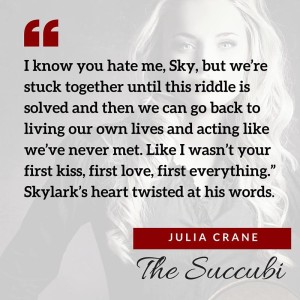 BIO:
Julia Crane dreamt of elves and teen androids long before she captured them and put them on paper. She's written and released over fifteen young adult and new adult titles over the past two and a half years. From science fiction adventures to succubus,
HOW CAN READERS REACH YOU?
https://twitter.com/JuliaCrane2
https://www.facebook.com/juliacraneauthor/
www.juliacrane.com
https://www.instagram.com/yajuliacrane/